Hi-definition collaboration calls for better productivity
High quality video/audio conferences lead to happier customers and employees. Unfortunately for Hybrid Workers on home networks and consumer grade broadband connections, the experience can be frustrating and demoralizing. With Brink, Enterprises can deliver their services to customers more efficiently and achieve better business results.
Why current products fail to meet customer requirements
Frozen Video
And broken audio leads to ineffective conferences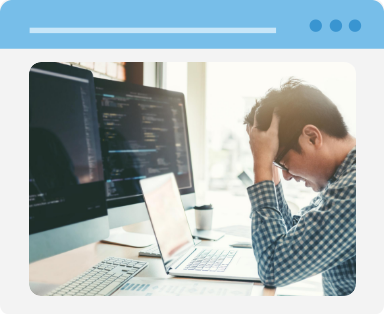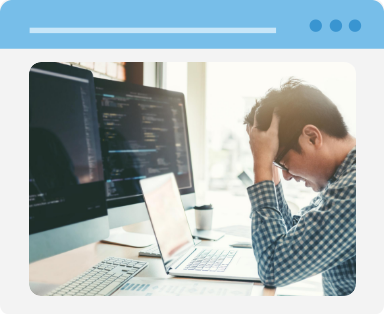 Negative QoX
End customers are unhappy leading to business impact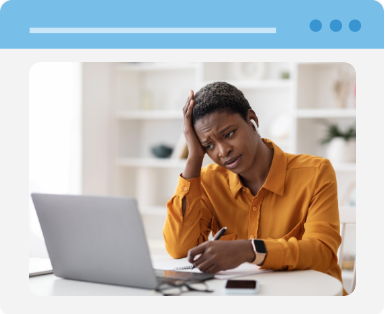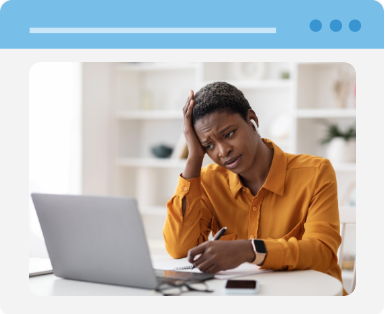 Impact to Collaboration
Teamwork degrades leading to business degradation
What are the underlying issues that are negatively the hybrid workers user experience?
Latency
"Latency is the time taken for data packets to travel from source to destination. A higher latency network is common for remote users because of "best effort" consumer-grade ISP connections and Wi-Fi. Latency degrades application performance.
Jitter
Jitter is the variation in the delay of data packets from source to destination. If the jitter becomes too great, the packets arrive out of order, and the video or voice becomes jumbled. This severely impacts audio and video calls and makes communication extremely painful.
Packet Loss

Dropped and missing packets are a fact of life. Packet loss forces applications to backoff their speed and makes them appear very slow. Unfortunately, packet loss is very common with home WiFi and roaming user public networks.
Security

Many security solutions have failed to consider the user's quality of experience. The solutions route traffic through a data center or a PoP that may be far from the user. This means that security solutions for hybrid workers exacerbate the poor quality of experience.
Cloudbrink delivers high-quality UCaaS calls
High quality video and audio calls
Whether a user is on Zoom, Teams or WebEx, users need high quality video and audio calls to succeed in their job. High quality calls and meetings will make a hybrid work policy a success because employees will be able to deliver their services efficiently.
Supercharged Collaboration
In the new virtual world of hybrid work, high-quality conference calls enable users to collaborate effectively and progress projects faster. Users on poor-quality links find it hard to join in meetings because they may have intermittent video and delays in audio. Poor quality is compounded by the link latency that causes delays, making it hard to join in and contribute to fast-moving meetings.
Better Customer Support
Customer success is super critical for every enterprise. Clear communication with customers is needed for successful support services. Poor quality links can lead to misunderstandings and poor resolution that will impact customer satisfaction scores and eventually lead to reduced business.

Supercharge your productivity request a demo today
Why customers choose Cloudbrink?
Cloudbrink provides a best in class employee experience and zero-trust secure access via an edge-native platform.

Uninterrupted meetings
Cloudbrink Quality of eXperience (QoX) service ensures that conferences call run with best quality video and audio streams

Join calls from anywhere
Users can take calls from anywhere without the fear of having poor quality audio or video
High quality customer service
Enterprises can delivery the best possible customer service because they are now able to use high-definition video and audio calls
Better business outcomes
Happy customers and users leads to better business
High quality of experience
Enterprises can deliver the best possible application performance and increase their security posture
What our customers are saying
"We have been really impressed with all aspects of the Cloudbrink partnership from the overall solution through your support throughout this PoC process."
CHIEF INFORMATION OFFICER
Healthcare Company
"Can't say enough about how the Cloudbrink solution and team has assisted our remote workers and made there lives so much easier, just like being in the office. This solution has allowed us to achieve better results and time to market than what we were seeing when we were in the office for some remote users."
VICE-PRESIDENT
Gaming Company
"We really like what we are hearing, if you can fix our MS Teams issues that would greatly benefit our CEO and also help our VDI environment, your solution would have a huge impact on our business".
HEAD OF IT
Financial Services Company